Choosing the right conveyancing solicitors in Manchester doesn't have to be a stressful ordeal. However, it can be difficult to know where to start when finding the right solicitor for your needs. We bring you some of our most effective tips on finding the best conveyancing solicitors in Manchester…
Are they accredited?
One of the best ways to check if a conveyancing solicitor in Manchester is good at what they do is through accreditations. We're part of The Law Society's Conveyancing Quality Scheme. This shows our team has the necessary expertise and recognised qualifications to deliver high-quality conveyancing advice and services to all clients. We also let clients know what to expect in terms of fees, timelines and processes. Being part of the scheme means we offer a residential conveyancing service authorised and regulated by the Solicitors Regulation Authority (SRA). The SRA is an industry body that places certain expectations on conveyancing solicitors.
We are also part of The Conveyancing Association, a members-only group working to continuously improve the conveyancing process while carrying out best practice throughout for all clients.
How can you tell if a conveyancing solicitor is accredited? Just keep an eye out for these logos on the company's website:
Do they have an office you can visit in person?
Some solicitors don't have an office where clients can drop by for appointments or discuss matters surrounding their case. Our conveyancing solicitors office in Manchester is just a 10-minute walk from both Piccadilly and Oxford Road stations and a 60-second walk from Piccadilly Gardens Metrolink station. We also have secure underground parking.
Although we have a physical office in Manchester, most of our clients tend to use our online service out of convenience. This means we handle your case entirely through e-mail, phone calls and letters. Our clients use an online conveyancing portal where they can easily complete forms and documentation, upload their own documents and view real-time information on the progression of their cases. Please visit our client portal information page for further details.
Is the office and conveyancing service accessible?
Accessibility for differently-abled people should be a priority for all businesses. Our Manchester office is equipped with full access raised floors, lifts and accessible toilets.
We're also a dementia-friendly company – some of our employees are part of the Dementia Friends initiative and we're planning for all of our staff to join this iniative. Take a look at how we are actively creating a dementia-friendly workplace!
If visually impaired clients are able to read braille we will ensure correspondence is translated to brail for them to read themselves and will ensure where possible communication is verbal.
Likewise for clients with impaired hearing we will generally correspond by letter, text and email. However, if they wish to speak with one of our conveyancers we will either arrange for a sign language interpreter to be present or will make use of speech recognition systems to convert speech to text.
Check the reviews
A great place to start your research is by visiting review sites, as it's an impartial way to see what previous clients really think of a company. Trustpilot is particularly revealing as firms can respond directly to reviews – this is a fantastic way to see how a business deals with clients, no matter whether the review was glowing or less than favourable. We have a Trustpilot page so you can determine for yourself whether or not we're the right fit for your conveyancing needs.
It's a good idea to look up industry-specific review sites too, such as solicitor.info. This is an independent reviews site focusing on law firms and solicitors. The site was set up by someone who had a negative experience with a law firm – it's now one of the biggest legal reviews sites in the UK with over 16,000 reviews and millions of visitors.
Do your research on social media
Social media can be telling when it comes to solicitor firms. Start by taking a look at the company's social media pages. You may find testimonials from previous clients and even posts about gifts given to the team.
Here are just some of the wonderful goodies we have received from conveyancing clients: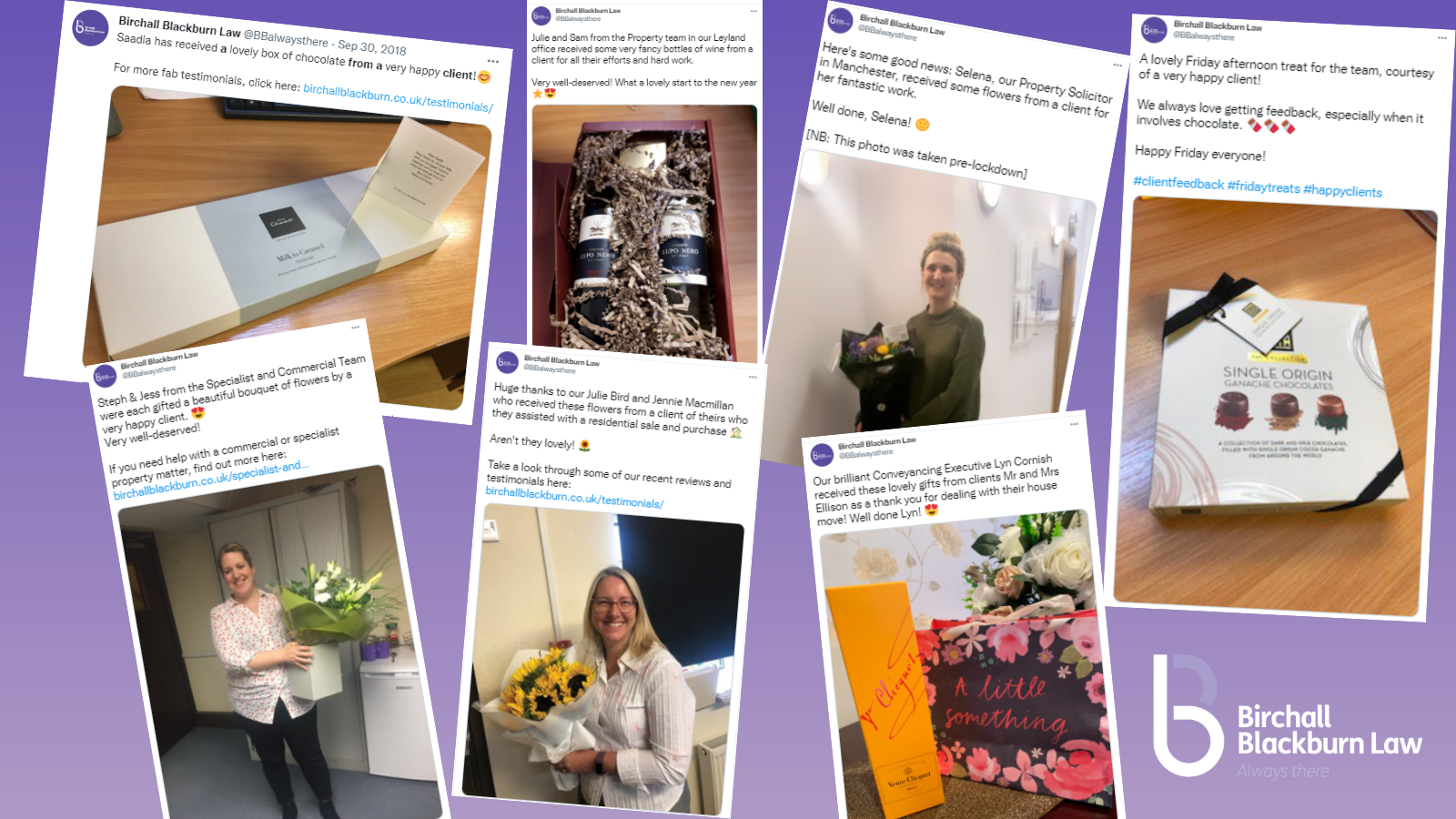 Price transparency
No-one likes unexpected costs – especially when you're buying or selling a property. That's why we have a Conveyancing Costs Calculator. People can use the calculator as a guide to how much they can expect to pay for our conveyancing service.
The calculator shows sellers our professional fee, ID verification fee, official copies, bank transfer fees and so on. As well as this, buyers will also see the costs for search fees, bankruptcy search fees, Stamp Duty Land Tax (SDLT) and so on.
We also offer a guide to Conveyancing Pricing and the general conveyancing service process.
Awards
These days there's an awards ceremony for most industries. This can be an effective way to determine the firm's quality of service. The ESTAS Awards, for example, brings together conveyancers, estate agents and suppliers from all over the UK for a yearly awards ceremony. We even won a few trophies ourselves at his year's ESTAS.
Another prestigious award ceremony is the LEAP Modern Law Conveyancing Awards. Some of the categories include Client Care, Conveyancer of the Year and Best Use of Technology. We have also won a few Modern Law awards such as Conveyancing Firm of the Year – North of England. Most recently, our conveyancing solicitors in Manchester won the ESTAS 2021 gold award for Best Conveyancer in the North West (South)!
Looking for a conveyancing solicitor in Manchester? Get in touch with our team to get started: