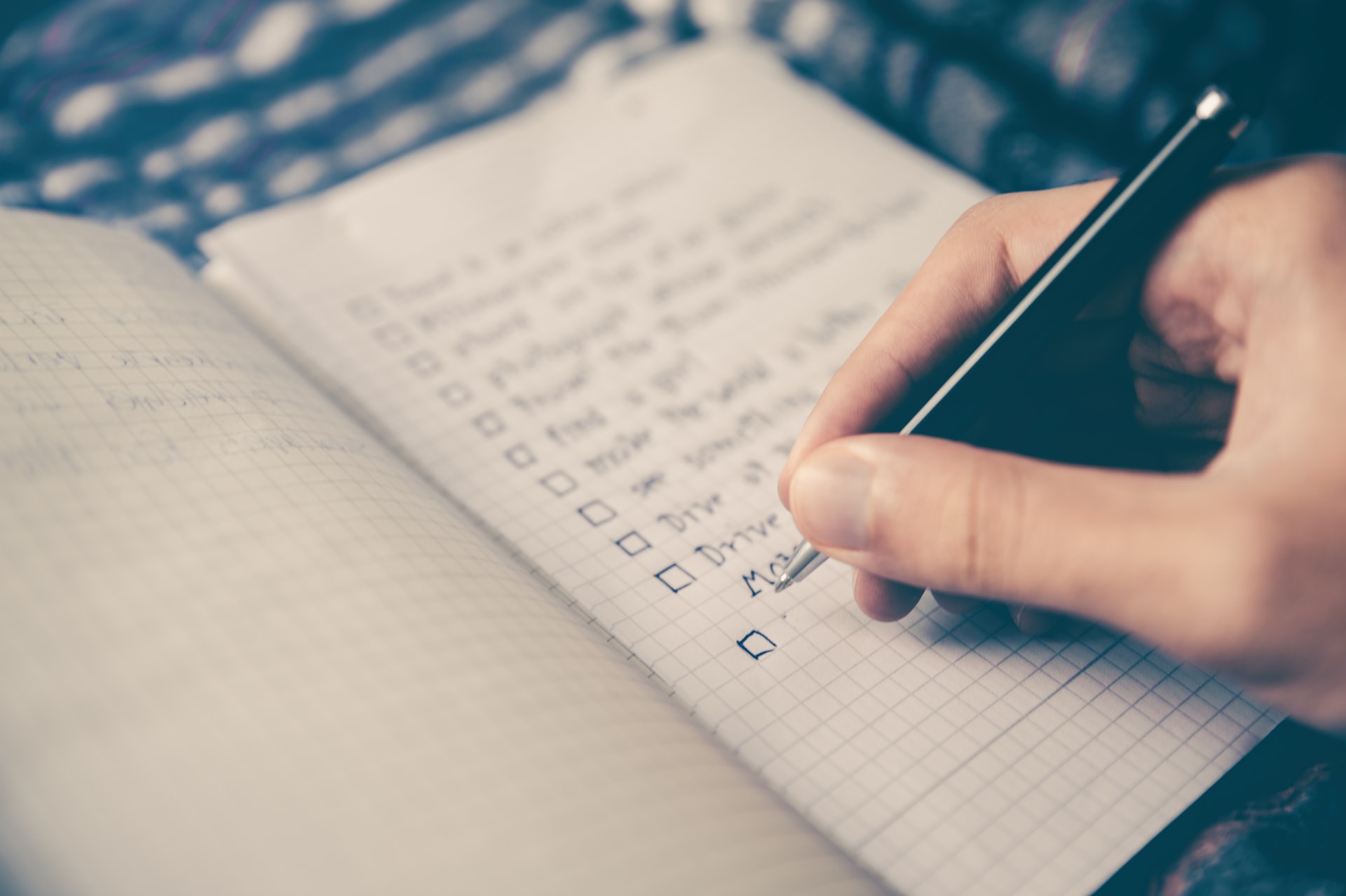 According to the latest stats, 59% of UK adults haven't yet made a Will. Of the entire population, a whopping 53% have never thought about making a Will. It just seems to be one of those things that we never think to tick off our to-do list…even though it can be one of the most satisfying to check off.
So why is it important to make a Will? And how do you get started?
You can choose who handles your estate
Making a Will means you're able to choose one or more executors. An executor is a person who handles your estate after you die. Some of the duties of an executor include: dealing with any inheritance tax due, making the probate application, closing bank accounts, selling property, liquidating investments and distributing the estate.  Sometimes the executor might also be required to register the death and plan the funeral.  If you don't make a Will, you won't be able to choose who handles your estate and, instead, the rules of intestacy will determine who can do this, which won't necessarily be someone you would have chosen yourself.  So making a Will is a great way to make sure your estate is dealt with by someone you know and trust.
You can include funeral details
Including details of your funeral plans and arrangements in your Will is a fantastic way to get two things done at once. You can choose the person who organises your funeral, as well as preferences for the service and your final resting place. For example, Frederic Baur, creator of Pringles, wanted his ashes stored in a Pringles can. Inventor of the frisbee, Ed Headrick, had his ashes molded into frisbees which he then gave to loved ones. Both families honoured the requests. Your wishes might be less outlandish than this, but it's still important to make them known! It's important to note, however, that funeral wishes aren't legally binding even when you put them in your Will.
Make childcare arrangements
Of course, you can leave childcare responsibilities to your surviving partner if the children are under 18, but what happens if you don't have a partner? In those circumstances, it's likely that a guardian will be chosen by the court.  However, by making a Will you get to choose someone as a legal guardian – a guardian appointed by a Will is called a testamentary guardian.  So you can absolutely include childcare arrangements in your Will!
There are a few questions you'll need to consider before choosing a guardian:
Home: Which home will your children be living in? Their own? The guardian's home?
Location: Would your children need to relocate schools? Or would the guardian be prepared to relocate?
Age: Will the guardian be able to look after your children until they turn 18? For example, if you choose your parents as guardians it's important to consider their health and their capacity to take care of your children full time.
The court isn't obliged to appoint your chosen guardian, but a Will provides excellent evidence of your wishes.
What happens if you have children but don't have a Will?
Under current inheritance laws, if you have no living spouse or civil partner, your children are entitled to inherit your estate even if you don't have a Will.  However, we strongly advise seeking legal advice and making a Will. One reason for this is that the term "my children" might not mean exactly what you think it does.  For example, it doesn't include step-children, or children who aren't legally adopted by you or biologically related to you. Nor does it include any children you have given up for adoption.
Without a Will, the law will share your estate equally between all your children, which might not be what you would've chosen to do.
Your children will also be entitled to receive their inheritance at 18 years of age, no matter what their circumstances might be.  By making a Will, you can tailor everything to their individual needs and choose how old your children will be when they receive their inheritance.
And what about your spouse?
Many people don't realise that, if you don't make a Will, your spouse or civil partner may not automatically inherit everything, especially if your estate is fairly substantial.
Don't be caught out – speak to us about how best to protect each other's future by making a Will.
Choose what happens to your pets
With over 44% of households in the UK owning at least one pet, it's safe to say we are a nation of animal lovers! You can make provisions for your pets in your Will such as who will look after them, for how long and where. A pet is classed as a 'gift' in a Will, so it is possible to decline them. But making a Will means you get to choose exactly who you would like to look after your pets. Some people choose to gift their pet to a trusted animal shelter, while others name a family member or a close friend as the next pet parent.
While you can't leave money directly to a pet in this country, you can still make sure they're provided for financially. You can leave a lump sum to the person (beneficiary) looking after your pet, along with your wishes that the money is spent caring for the pet. The beneficiary isn't legally obligated to spend the money on your pet – though we like to think most people would carry out their loved one's wishes!
Look after digital assets and social media profiles
From cryptocurrency to Facebook profiles, you'll want to ensure that your digital assets and social media channels are properly dealt with after you die. Many social media companies now provide tools to help you control your online profile after you die.
When it comes to digital assets and your Will, you can give your executors authority to deal with these assets, or you can even appoint special executors just for this part of your estate.
Leave money to charity
Did you know you can leave a gift to charity in your Will? If you have a cause close to your heart, be it an animal shelter or a healthcare charity, you can leave a percentage of your estate to a charity or organisation of your choice.
In fact, Co-op reported a 227% jump in gifts in Wills left to poverty and homeless charities, as well as a 174% increase in gifts to charities helping elderly people…so you're in good company!
You can leave any part of your estate to charity – cash, stocks, property, vehicles or personal items. You can even leave all of it!
This is also something we're able to help you with.  We can make sure your Will is properly worded to include all the details required so your charitable gift can't fail.  Even if your chosen charity changes its name or is disbanded, you can be sure that your gift will be used for your intended purposes.
When it comes to making your Will, it's helpful if you have the charity's full name, address and registered charity number handy, as you'll need to include that in the Will. But don't worry if you don't have all of this information, as we can find it for you.
How to get started with making a Will
One of the best ways to start making a Will is to make a note of your assets and debts.
Here is a basic outline on what counts as an asset and what constitutes a debt:
| | |
| --- | --- |
| Assets | Debts |
| Your home | A mortgage |
| Other property you may own such as a holiday home | Credit cards |
| Savings (bank account or building society) | Loans |
| Life assurance and endowment policies | Equity release schemes |
| Private pension | Bank overdrafts |
| Stocks and shares | Money owed to friends and family |
| Cars and any other vehicles | |
| Digital assets (cryptocurrency, Paypal, etc) | |
| Personal possessions such as furniture, jewellery, art or antiques | |
The next step is to think about who you would like to include in your Will – your beneficiaries, executors, guardians.
You should also think about whether you would like to leave any gifts of specific items – for example, a necklace to one of your children, or a set lump sum to a friend.
It's also important to think about what you would wish to happen if any of your beneficiaries should die before you.
Ultimately, it's always a good idea to seek professional legal advice when it comes to writing your Will. DIY Wills may seem convenient, but it's easy to make mistakes. Instructing an experienced solicitor to write your Will can save time, hassle and money for you, your executors and your beneficiaries.
We are members of the Law Society's Wills & Inheritance Quality Scheme (WIQS), the coveted quality mark for all matters relating to Wills and estate planning.  We are also licensed and authorised by both The Law Society and the Solicitors Regulation Authority, giving our clients peace of mind that they're in safe hands.
Ready to tick "making a Will" off of your to-do list? Get in touch with our Private Client team to get started: